Kidsskin Sunscreen – Made by Parents for Kids
They say that if you want your kids to form good habits, it's best to start them early. In fact, it's best to start them very early. As adults, we know that there is no habit more important that good sun protection – after all, if we don't look after our skin today, we'll have to deal with the lasting damage tomorrow.
At Kidsskin, we are parents who want the best for all kids. That's why we developed Kidsskin Sunscreen SPF 50+ – a safe, effective, worry free Factor 50+ sunscreen made specifically for kids.
Formulated to meet the highest sun care standards in the world, Kidsskin is water and sweat resistant, suitable for all skin types and trusted as the official supplier for over 300 Early Childcare Centres across New Zealand.
We know that protecting your little ones from chemicals is just as important, so whilst Kidsskin has highest UVA, UVB and Broad Spectrum protection available, it's also made using a PABA-free and nano-particle free formula.
Kidsskin: Developed by parents for kids.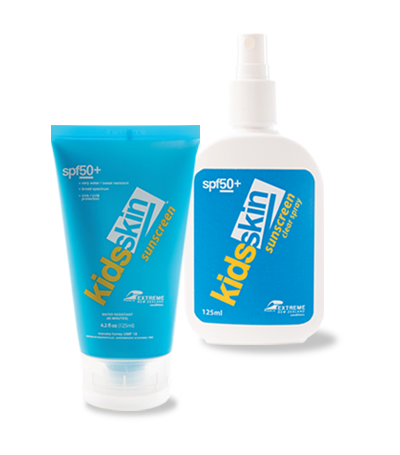 Highly Water Resistant

Non-Greasy PBA Free

Contains Aloe Vera

SPF 30+ UVA/UVB

Sweat Resistant

NZ Manuka Honey
"I was recently recommended Kidsskin by a friend of mine as she was seeing the trouble my 2 kids were having with allergic reactions to a lot of sunscreens I had tried. Her son has sensitive skin and has had no issues with your product. So I thought – well – it's worth a try since I have tried everything else. Within minutes I knew that Kidsskin was going to be fine for my kids." – Alison Bend